It is our honor to host the annual NTDTV International Piano Competition in the prestigious Ingleman Recital Hall of Baruch College in the City University of New York, we had a large stage featuring pianos approved for performance by the hosts of the event and judging panel of professional musicians. This years competition was televised around the world and over the internet and radio !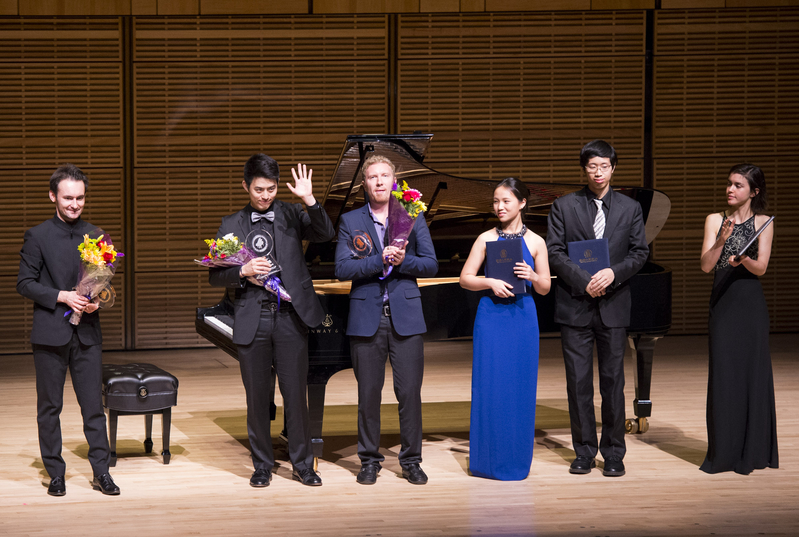 Click Here for Televised Cover of the Competition!
World class Pianos from Germany and Asia such as the were the vehicles that drove the fierce competition between the very talented Pianists. We also had a discount stage featuring our bestselling.

In the Weeks approaching the competition , Many prospective contestants visited our retail
stores and play some of our Best Pianos before auditioning for entry to the contest! As a courtesy,
we tuned and regulated some of our best pianos and allowed them uninterrupted practice on
professional pianos! Since we were the prime sponsor this allowed them to get a feel for the
instruments that would be on stage
The following instruments held up particularly well to all of their requirements of Tone

Color, Technical Precision, Piece, Projection, and Expressiveness :
---
Preliminary round: One piece
Contestants may choose to play the 1st movement of any piano sonatas by Wolfgang Amadeus Mozart (K545 excluded). No repeat is needed.
Piano of Choice :
---
Semifinal round: One piece
Contestants can choose to play either one of the piano sonatas by Ludwig van Beethoven (All movements. No repeat is needed.)
Or one sonata by Frédéric Chopin, Franz Schubert or Johannes Brahms. Jury may choose two to four movements of the selected piece for the contestant to play.
Piano of Choice :
Knabe 5'7" Concert Artist Grand
---
Final round: Two pieces
Contestants are required to play both of the following:
- Johann Sebastian Bach: Chromatic Fantasia and Fugue in D minor, BWV 903
Or
Johann Sebastian Bach: Prelude and Fugue (select any piece from Well-Tempered Clavier books I or II with the fugue featuring four voices)
Piano of Choice :
---
An encore piece with maximal 10 minutes by a composer from the Baroque to the Romantic period.
Piano Of Choice :
As many people rehearsed their encore piece of choice, many of the competitors in our stores shared the universal fondness for the Yamaha U series, a piano that they have played at conservatory, in their home countries, or in studios in NYC, i spoke to many of them and this piano brought back feelings nostalgia and affection as the piano that first drew them into piano playing, and the instrument that changed their path in life to a dedication to continuing the fine art of piano playing.
---
After 2 days of Intense playing and anticipation the following Pianists were our winners! It was an absolute joy to take part in this event, and provide the instruments that allow these talented Musicians to express and showcase their love of music !
NTDTV 2014 International Piano Competition Winners!
Category
Name
Gold Award
Timur Mustakimov (Russia)
Silver Award
Joseph Choi (USA)
Bronze Award
Anton Smirnov (Russia)
Outstanding Performance Award
Wesley Chu (Canada)
Honorable Mention Award
Aileen Gozali (USA)
Tania Rivers-Moore (France)