Steinway & Sons, W.M. Knabe, Wurlitzer, Yamaha, Mason and Hamlin, Baldwin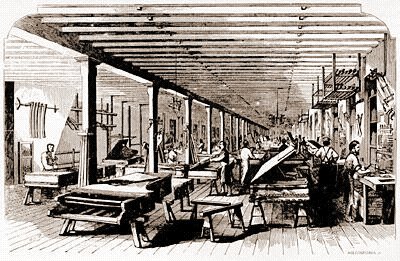 Its incredible to think that at the time many of these Piano companies began, the future home of Frank and Camille's was beginning to shape what would soon become Woodhaven and Ozone Park, NY
The Lalance Grosjean Factory - Our Ozone Park Showroom/Shop
A building as rich in American history as the Antique Pianos that it now houses and restores.
Florian Grosjean's company was based on Pearl Street in Manhattan, manufacturing tin utensils, but after a few very successful years he required larger quarters. In 1863 he purchased an abandoned factory in Woodhaven and within a year, over 100 Woodhaven residents were employed at the factory. Here is what the factory looked like back then - the road at the bottom of the drawing is Atlantic Avenue.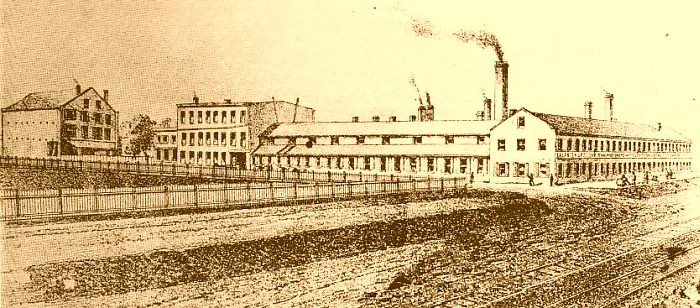 By 1876 the factory had grown and over 300 Woodhaven residents were employed by the Grosjean factory. On February 21st of that year, the entire factory was destroyed by fire. It was estimated that Mr. Grosjean's losses stood at somewhere between $300,000 and $400,000. Mr. Grosjean lived in Brooklyn at the time, and legend has it that when he arrived at the building that morning, only to see a giant field of smoking ruins along Atlantic Avenue, he fainted. Can you blame him?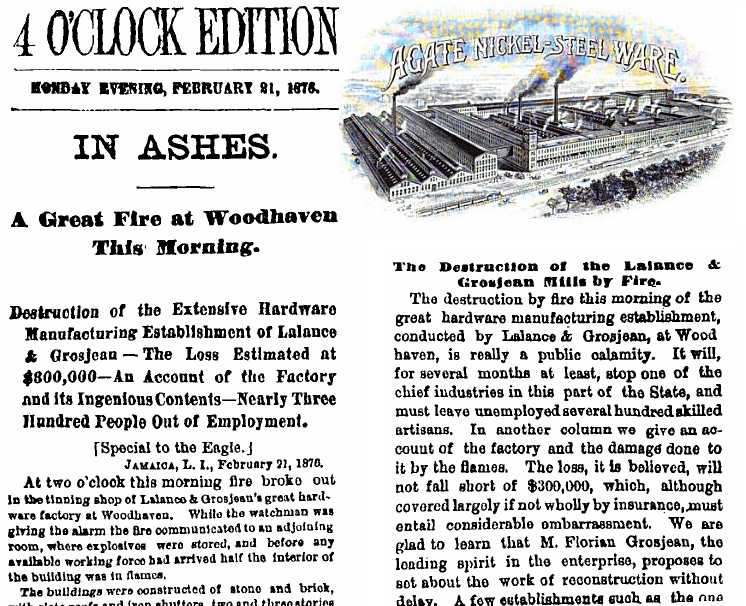 Many of the residents of Woodhaven, all suddenly without employment, were ready to pack up and move. Had they done so, there's no telling what shape our community would have taken. It may have been a ghost town for many years. Grosjean stepped up and put everyone on half-salary, and this convinced most residents to stay put. It was a smart move on his part, one he hoped would be financed by his insurance settlement (it was) -- and he put the town to work rebuilding a new factory.
Furthermore, he built many homes where these workers lived, in an area known back then as "Old Woodhaven Village." We filed a report on this area about a year ago, it's well worth a look. Click here to see "Old Woodhaven Village" and see what remains of the buildings that Mr. Grosjean built for his workers.
A larger factory, mostly brick with fire doors, was built and the doors opened by the end of August that same year. Mr. Grosjean's foresight, his patience, and his generosity saved Woodhaven.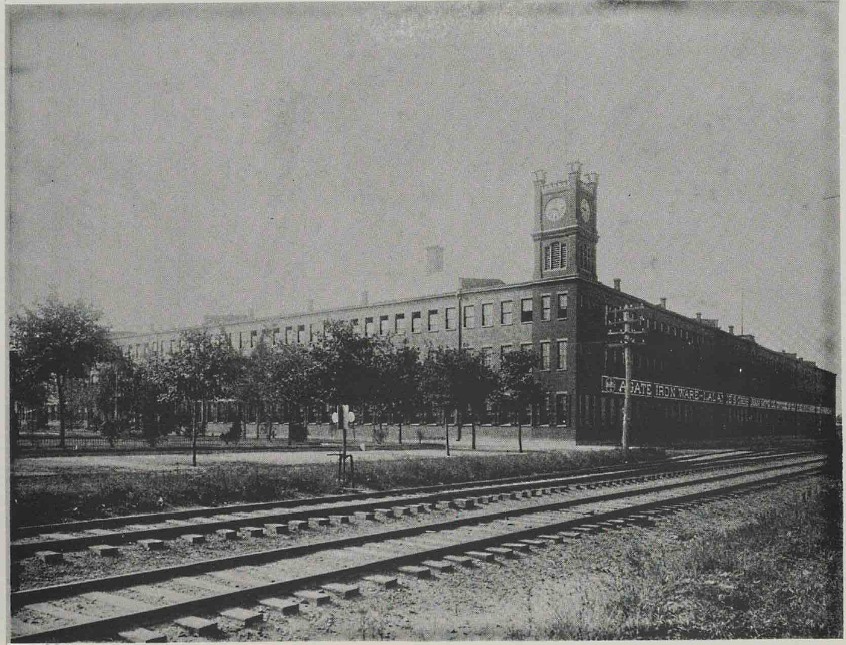 Above is a photo of the new LaLance-Grosjean factory around the turn of the century, by which time well over a thousand people were working there. The park at the left of this picture was built by Mr. Grosjean. Today, a Burger King and a Gas Station sit where the park used to be.
Frank and Camille's Showroom is located towards the Right side of the photo above, in the same row as the clocktower.
Here is a look at how we have kept the tradition of factory work and production by using the history space to refurbish, restore, refinish and distribute pianos throughout the NYC area.
Source : http://www.projectwoodhaven.com/2010/August/grosj...
As the large sign outside advises, they have a large display of pianos, and different types. In fact, as soon as you walk in the door you hear a piano playing and when you look around to see who's playing you see that it's one of those player pianos. Pretty cool. This building, of course, is the old Lalance & Grosjean factory, so it's always a treat walking around inside.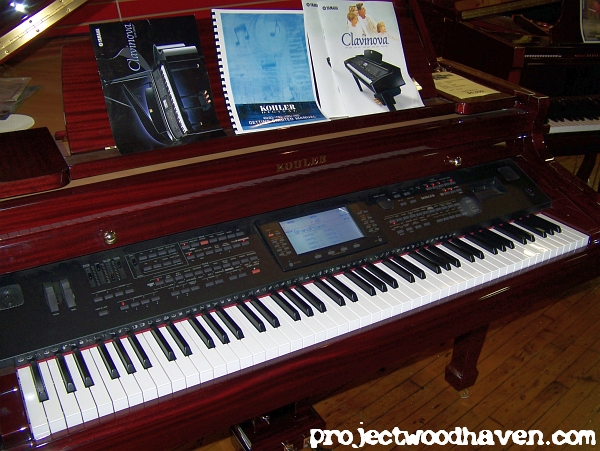 Check out that piano! That's some keyboard -- looks like NASA engineers put it together. There were all kinds of pianos in this place -- from big, grand pianos to smallish ones.
It was nice to walk around - everything was polished and shining. In some ways it reminded me of being in a car showroom. After walking around the first two floors, I came across a door and saw a staircase heading up to the 3rd Floor. It turns out the 3rd Floor is where they do their repairs. Below, at right, you can see a grand piano being worked on.
And below are a bunch of pianos that are ready for shipping, or in the process of being received. You can see that they need to be protected carefully while being moved, lest they be scratched.

Here we are, back on the 2nd Floor. They've done a great job refurbishing this building over the years. It's a real treat walking around, looking at walls and ceilings that have been around forever. Check out those black metal sliding doors in the picture below -- you can easily imagine them being rolled opened and clanged shut by workers seventy-five or a hundred years ago. Truly a great environment for a piano showroom / factory.
Video Tour of Piano Factory/Lalance Grosjena Factory :